December 28, 2020
Accessible Activities Australia – Part 2 – Brisbane
Accessible Activities Australia – Part 2 – Brisbane
As a result of the great response we received from our recent article, '6 Great Accessible Melbourne Activities', we have decided to continue the trend. Access Advisor is excited to present part 2 of our Accessible Activities Australia series, Brisbane.
We will be releasing more of these articles covering other cities in the coming weeks, so if we haven't covered your city yet, you can look forward to it being published soon!
If you have not had a chance to read the first part in this series; Melbourne, you can find it here.
Mobility Equipment Hire for Exploring Brisbane
The Brisbane City Council is committed to providing equitable access for all visitors to Brisbane to experience their beautiful city.
Visitors are welcome to make a stop at the City Hall Mobility Centre. Here they have wheelchairs, wheeled walkers and single prams that can be borrowed for long or short periods, depending on availability. This provides tourists of all abilities with the opportunity to wander and see the Brisbane sights. The equipment is available free of charge for use within Brisbane's Central Business District, South Bank Parklands and the South Bank Cultural Precinct.
Make sure to call ahead before your next visit to Brisbane City to organise accessibility equipment hire. If required, this will ensure you get to experience the best that Brisbane has to offer.
The centre is located on the ground floor of Brisbane City Hall and is open:
Monday to Friday: 8am-5pm
Saturday and Sunday: 9am-5pm.
You can find more info here.
Visit South Bank
While mobility equipment is available from Brisbane City Council's Mobility Centre, much of the South Bank district has been designed in such a way to maximise accessibility for visitors.
South Bank's underground car park (located on Little Stanley Street), has several disabled parking bays which are conveniently located near the car park lifts at the northern and southern ends of level B1.
Standard disabled bathrooms are located at South Bank Piazza and Stanley Street Plaza, while a specially designed disabled bathroom that includes a shower, ceiling
hoist and a change table/shower trolley is located behind the Central Cafes.
South Bank also has a purpose-built pool wheelchair and a purpose-built beach wheelchair available for visitors free of charge.  This is to ensure that no one misses out on the many South Bank activities.
This information taken from the South Bank website which you can view here.
Go Whale Watching
Brisbane's Moreton Bay is one of the best places in the world to catch a view of the mighty Humpback Whale in all its glory.
Every year between the months of July and November, travellers can be treated to a luxurious cruise in the bay with guaranteed Humpback sightings (or your money back!).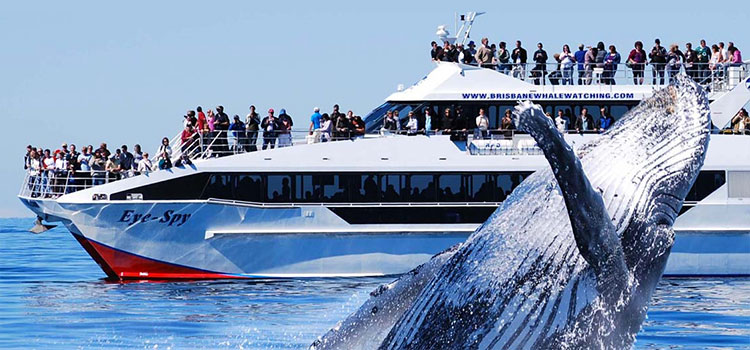 Our friends at Brisbane Whale Watching offer a completely wheelchair accessible experience aboard their luxury catamaran, The Eye Spy.
They are able to cater for people of all ability levels to experience the splendour of the Humpback Whale during migration season.
The Eye Spy features top of the line whale watching technology. The vessel includes an air conditioned interior that will not inhibit viewing, underwater microphones allowing you to listen in to the whales as they communicate and an underwater GoPro to experience the whales from an entirely different viewpoint.
There is also a fully accessible toilet available onboard to make sure that you or your travel companions feel entirely comfortable for the duration of the trip.
You can find out more about Brisbane Whale Watching and make a booking here.
Ride The Wheel of Brisbane
The Channel 7 Wheel of Brisbane is an iconic landmark of the South Bank skyline. The 60 metre high wheel with 42 – 8 seater gondolas is the perfect way to take in the sights of Brisbane.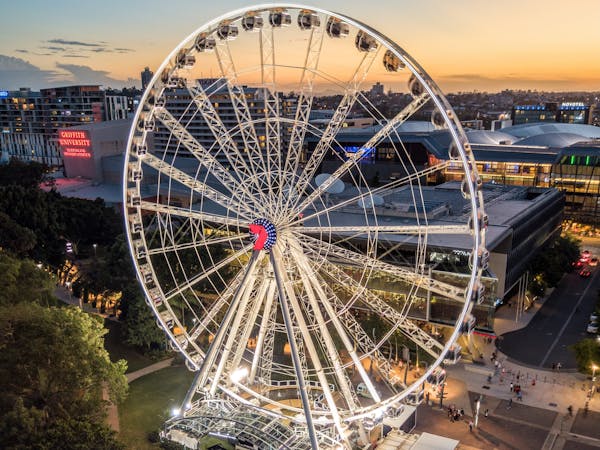 Each gondola is fully enclosed and air conditioned so you are assured comfort while you ride high above South Bank. It is the perfect spot to get the lay of the land and plan your next stop in the city. While you ride, you are also treated to an engaging audio tour of Brisbane that features on all rides.
The Channel 7 Wheel of Brisbane has 2 gondolas that are fully wheelchair accessible to ensure everyone can experience the feeling of soaring high above Brisbane.
Make sure you book your ticket so that you don't miss out!
Find out more about the Wheel of Brisbane here.
Visit the Queensland Art Gallery & Gallery of Modern Art
The Queensland Art Gallery is chock full of fascinating pieces and exhibits to spend your day exploring. Both the Art Gallery and the Gallery of Modern Art are overlooking the Brisbane River in South Bank's Cultural Precinct and are 150 metres apart. They are walking distance from the Brisbane city centre so you can be assured of easy access to both galleries.
There is also ample parking available with parking bays for visitors with disability located in the car parks situated within the Cultural Precinct.
Mobility impaired and wheelchair access is available to both the Queensland Art
Gallery and the Gallery of Modern Art. Carers, guide dogs and support workers are also more than welcome in both galleries (access to both galleries is free with the exception of some ticketed exhibits.)
Both sites also offer low sensory time slots for any patrons who experience sensory disability. Just visit the website for more information on these time slots.
For information on accessibility visit the QAGOMA website here.
Catch a Show At Queenslands Performing Arts Centre (QPAC)
The Queensland Performing Arts Centre "is dedicated to being welcoming, accessible and inclusive for the widest possible audience".
Wheelchair accessible seating is available for all shows, you will just need to call ahead and make sure you book in your seat so you do not miss out. To make your visit as easy as possible, a drop off zone for visitors is available on Grey Street.
Guide Dogs, carers and support workers are welcome to accompany those with access needs. QPAC is partnered with the Companion Card initiative, so upon presentation of a valid card, you can receive a free ticket to attend as well.
QPAC features a few "relaxed performances" that are specifically written and choreographed in such a way that they will be suitable for those with sensory disability/trauma etc.
You can find out more about the access solutions offered at QPAC here.
We love Brisbane at Access Advisor and enjoy travelling there to experience its abundance of culture. Enjoy this list of great activities that everyone can experience. Happy travelling!